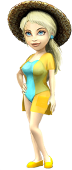 A Hotel Tycoon Set amongst Sun, Surf and Sand
Build a hotel empire from the ground up in an absolutely paradisiacal setting!
My Sunny Resort is a hotel tycoon with no rival – its loving-detailed graphics and countless hotel manager features guarantee long-lasting fun.
Design your very own resort with countless decorations and amenities – from simple snack bars to 5 star restaurants, from bamboo bushes to exotic lotus ponds.
Give your Guests the Vacation of a Lifetime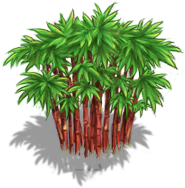 The first step to wowing your vacationers in this one-of-a-kind hotel tycoon is arranging comfortable lodgings to your guests' tastes. Furnish bungalows of varying sizes with countless decorations and furnishings. Install stylish floors and create a holiday ambience with a wide selection of themed walls.
Your guests have some basic expectations when it comes to furniture – a bed, shower, and TV are a must – but beyond that you can have free reign: Add basics such as arm chairs and couches, or go all out with flowers, statues, and fireplaces.
Once your guests are all settled in, you can direct them to attractions and restaurants all over the resort, answer their questions, and supply them with anything they might need.
Manage your Staff
As a resort manager, you'll have to hire a qualified and hard-working staff. Choose the best candidates from a host of applicants and train them regularly to hone their skills. Your employees will play an important role in your guests' happiness, and also produce a variety of goods that can be sold to the vacationers – from beach supplies and souvenirs to expensive rings for last-minute proposals on the beach.
Additionally, you can hire specialized employees such as cleaners and guest service specialists to relieve you of some of your many duties as a hotel tycoon.
Explore the World of Browser Games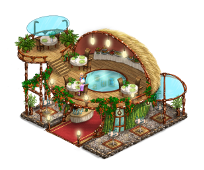 My Sunny Resort is only one of the many browser games you can experience at upjers.com. Explore countless genres from hotel tycoons to action games, to zoo and farming games!
Slip into infinite roles and discover all sorts of foreign worlds and strange lands – and best of all: all of our games are free!
Great Hotel Game Tips
Comprehensive hotel game tips, tricks and infos can be found in the My Sunny Resort game forums.